...in midtown. Looks interesting.
https://www.stlmag.com/dining/city-foun ... lining-up/
---
I love the idea of a food-hall- especially the local focus, but I don't understand the entertainment anchors and inclusion of office and retail. That part of the project sort of sounds like a they are repackaging a mall and giving us Mall 2.0 and just branding it a food hall. It will really just depend on how they execute it I suppose. Overall a nice project to see either way.
Beyond the food component, the $230 million-plus development calls for several dozen retailers and office space. (Eighty-five percent percent of the latter is already leased.) A pedestrian-only streetway—used for events, art fairs, concerts, a farmers' market, street performers—will run through the complex, and a new bike path will connect the site to other neighborhoods. And an existing railroad trestle is slated to become an elevated walkway, "a downscaled version of New York's High Line, which will be visible from the highway," says Smith.
The food hall portion of this is what I envision/hope is happening along Delaware in the RM. Creating synergy with the Market by developing a food hall/market area with entertainment would really bolster that area and connect the Market to Delaware in a more outward fashion. KC doesn't really have anything like that.
---
Similar, but not the same. Food Hall completed inside Metropolitan Square:
http://www.stltoday.com/business/local/ ... 19861.html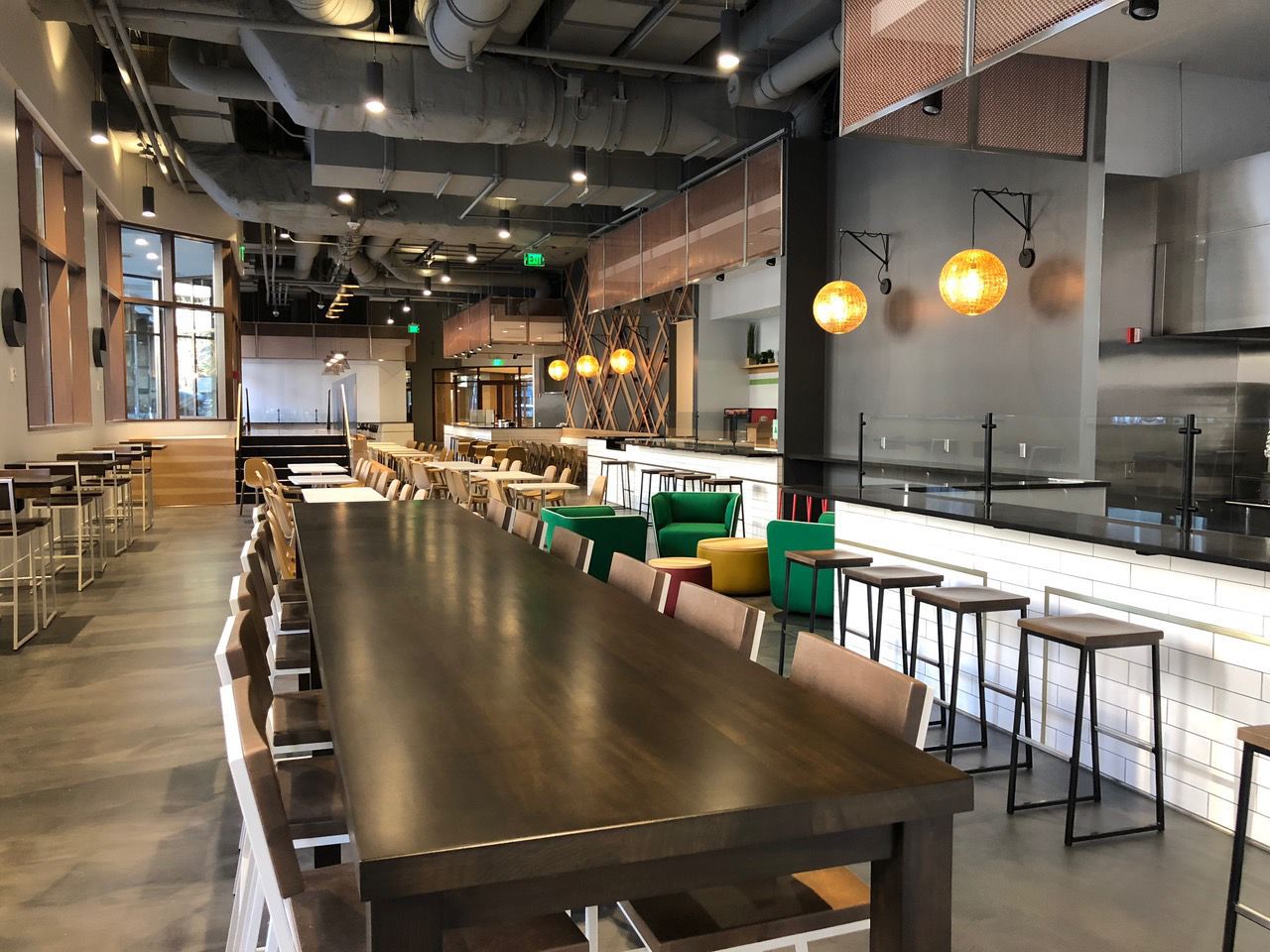 ---
Colonnade

Posts: 745
Joined: Sun Feb 19, 2017 9:27 pm
This is nearly completed. Opening pushed back to the Spring of 2021 due to corona. Here are some pictures I took. Some of the office tenants are moved in and other office spaces are being built out (occupancy for office is 95%). Some plants will be added in pots and what not when the opening for the shops and Food Hall nears. Murals will also be painted on some spots to add color.
Video (which I made) link here:
https://www.youtube.com/watch?v=3Pp4bz-z3tw
---
Excited to see that. Looks like a movie set or a amusement park.
Quocunque Jeceris Stabit
---
Colonnade

Posts: 745
Joined: Sun Feb 19, 2017 9:27 pm
City Foundry had a successful Wintermarkt today for Small Business Saturday. Over 20 small, and local, businesses were set up in tents outside today. Businesses included clothing retailers, jewelers, plant shops, a card shop, candle shop, a coffee stand, ice cream stand (with odd flavors), and Patty's Cheesecakes (which will open in the Food Hall in the Spring). It was quite nice to finally see people in the Foundry since it has been dead for so long.
This event required attendees to sign up for a time slot to come and visit, to limit the humber of people. Masks were required as well. A second Wintermarkt is planned for December 5th and is fully reserved at this time.
The Alamo Movie Theater will open in the Spring as well. Exterior work is done on that. The walkway to Forest Park Avenue is complete as well.
---
Colonnade

Posts: 745
Joined: Sun Feb 19, 2017 9:27 pm
---
Infill, Awesome.
Mass Timber, Awesome.
St. Louis's love for ugly ass garage screens, not awesome.
Quocunque Jeceris Stabit
---
Colonnade

Posts: 825
Joined: Sun Jun 13, 2004 7:56 pm
Location: Crossroads
Parking with some residential attached.
The urban version of the suburban snout house?
---
Colonnade

Posts: 745
Joined: Sun Feb 19, 2017 9:27 pm
I highly doubt that the garage will look like that when complete. So many people are complaining about it on social media so it may cause them to change it a bit.
As it stands, it has the same vibe as the Busch Stadium garages
---
Colonnade

Posts: 745
Joined: Sun Feb 19, 2017 9:27 pm
---
Colonnade

Posts: 745
Joined: Sun Feb 19, 2017 9:27 pm
Additional rendering of Phase 2 (view from within the development) and a description by the architect, Todd Halamka + Partners.
City Foundry Phase 2 is a new 368,000-square-foot, mixed-use residential development in Saint Louis, Missouri. The development includes 282 dwelling units atop a multi-level parking garage, with ground floor commercial retail. Continuing a westward expansion of the newly completed City Foundry Phase 1 development, the new residential building design envisions elegant, compact dwelling units in studio, 1 bedroom and 3 bedroom layouts permitting work/live opportunities on premise, coupled with extraordinary amenity facilities including two outdoor garden terraces at level 8 complete with extensive flowers, trees, swimming and leisure settings. Additional level 13 rooftop indoor/outdoor amenity spaces are included with vistas extending across the entire City Foundry site below and the downtown city of Saint Louis, Mississippi River and Gateway Arch beyond.

As project owner and developer, the Lawrence Group anticipates a fall 2021 commencement of construction. The building will seek Well Building certification and incorporates both natural and mechanical ventilation strategies to optimize systems efficiencies and maintain low energy consumption. The building design also explores modular unit planning with repetitive interior and exterior components, fostering construction schedule and materials cost savings.
The rendering below is of "Fassler Hall". It will open in the main Foundry Building next year. This rendering was found embedded on their website.
---