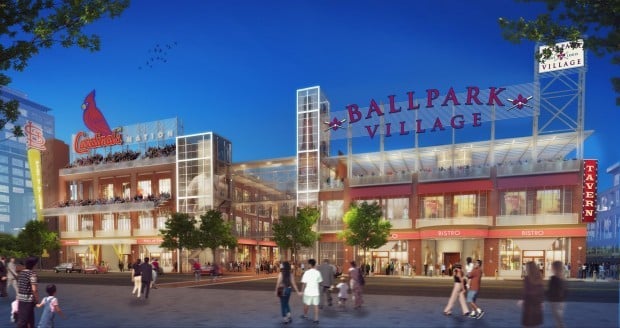 The $100 million first phase will include the development of a three story building housing a world-class Cardinals Hall of Fame Museum, a Cardinals-themed restaurant, and ticketed seating decks with views directly into Busch Stadium
.
...
It's decidedly less ambitious than earlier visions of the project, which has been on the drawing board for more than a decade with no real progress — a sore spot for both the Cardinals and the city.

But unlike those efforts, stressed Cardinals president Bill DeWitt III, this version is fully-financed, largely pre-leased, and attainable despite the weak economy.
...
The space is more than 80 percent spoken for, DeWitt said, though he wouldn't name tenants yet beyond the Cardinals.

Of course, there have been plans before; they've stalled at the financing stage.

This time, the Cardinals and co-developer Cordish Co. plan to foot most of the $100 million bill themselves. They will also buy $18 million in bonds that will be paid off with city and state taxes on the site — bonds the team had struggled to sell in earlier efforts.
"That removes a great bit of uncertainty," DeWitt said.

The Cardinals also would build streets and sewer connections through the rest of the of the 10-acre site, but leave it as surface parking lots for now.
Read more:
http://www.stltoday.com/business/column ... z1vblgIDZQ