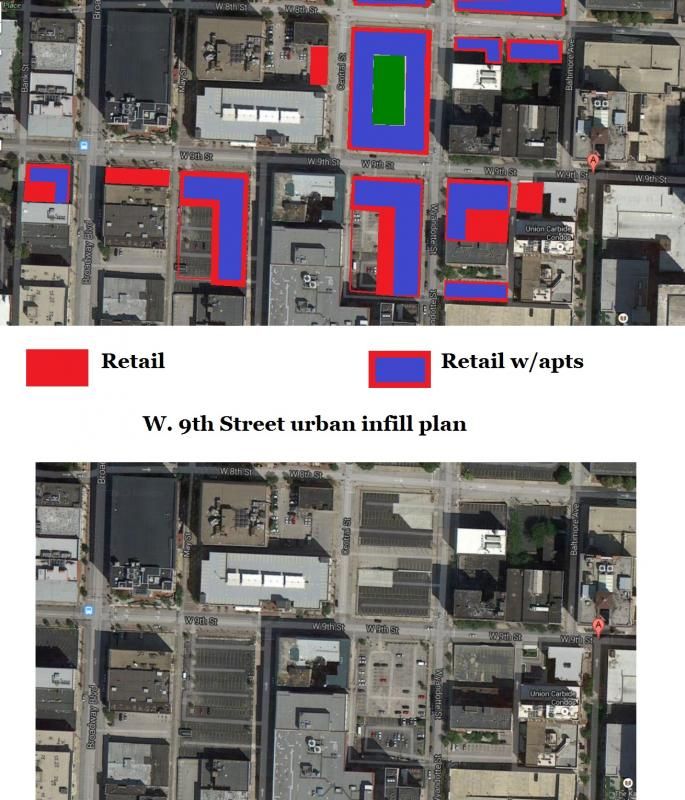 flyingember wrote:this is an area I know about

don't expect retail at the SW corner of 9th and Wyandotte. that garage was designed to have a larger structure built on top of it. was originally going to happen with the union carbide project so right now the whole setup is shared resident/office parking. it's the garage for much of baltimore place too. when that new england building condo conversion happens it's where they'll stick the resident parking

the lot you have next to the cosby hotel is owned by the union carbide condo association. it's definitely not going away

the lot behind the kansas city club is for the condos next to the old mcwhirter printing building. I could see it being built on with a larger garage on the opposite side of it

the mid con parking lot is used by the same places.
Yeah, I realize the reality of the situation. My graphic was more fantasy, but based on the premise that land becomes valuable enough that other parking solutions are sought. Some of the current surface lot parking could go away if there were large enough community garages built on large parcels like those on the west side of 9th and Wyandotte.
It would also be possible if many adjacent buildings and lots were bought up by a single owner/developer who could re-distribute parking spaces in other locations -- mostly underground parking garages and those built behind or in the center of lots behind buildings facing the streets, and then build on the former surface lots. After the redevelopment plan is completed, individual buildings could be sold off to different owners again with condo-ownership of certain parking spaces in garages.
I was imagining the garage on the SE corner of 9th and Wyandotte being demolished, as well as the vacant printing building south of it, and a larger underground garage put in place. There might be a second parking deck on top of the retail there, and then apartments on upper floors.
Then the Union Carbide surface lot spaces could go in that garage, and a small annex building constructed connected to the Cosby Hotel facing W. 9th Street.
The Lofts at 917 Wyandotte would park across the street in a underground garage--freeing up those surface spaces for a small narrow building on that lot.