Let's say that KC were to build a downtown stadium, but that the favored Washington Square location was out of the question. What would be an ideal alternate location and why? Please provide advantages and disadvantages.
Please limit your location to areas within the MODESA boundaries
or
in urban riverfront areas along either side of the Missouri and Kansas Rivers. (Yes, urban KCK included.)
I'll start.
My alternate ideal location would be the the tract southeast of 19th & Oak. The site does have a few existing businesses so a relocation package would have to be included. The site is level and most of it is currently a surface parking lot. If cleared, the site is large enough to hold a stadium the size of Kauffman. The site is fairly close to Crown Center. It would further spur redevelopment in the East Crossroads and would help tie 18th & Vine closer to the rest of downtown. It is easily accessible from all of the major highways. However the stadium would sit on top of most of the available parking, a garage might need to be build immediately west of the stadium to accomodate suburban traffic.
Here's a photo of the site and an aerial view. Yellow indicates where I'd put the stadium, blue indicates where I'd put the garage. The garage would have ground level entrances as well as 3rd level entrances off both McGee and Oak. Green is Washington Square Park, for reference.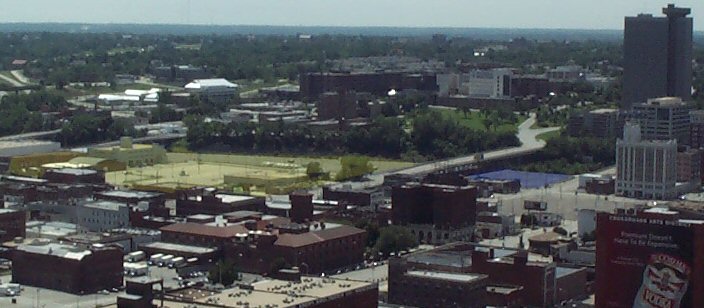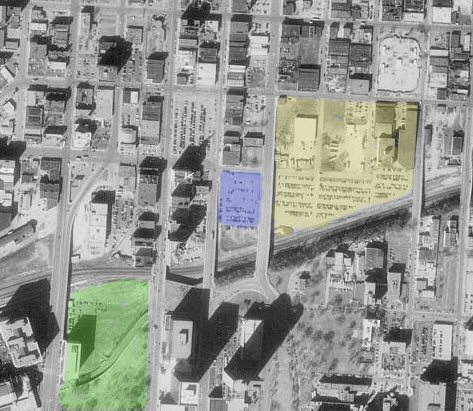 Let's see your ideas!